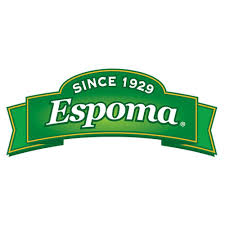 Espoma
Espoma provides quality soils and fertilizers and is the leading provider of organic fertilizers for the retail lawn and garden industry.
Espoma Soils
Organic Cactus Mix

Potting Soil Mix for Cactus, Succulents, & Palms. Provides optimum aeration & drainage, while promoting root growth.

Organic Potting Mix

For all indoor & outdoor containers. A rich blend of sphagnum peat moss, humus & perlite. Fortified with earthworm castings, alfalfa meal, kelp meal & feather meal.

Organic Vegetable & Flower Soil

All Natural & Organic soil enhanced with Myco-tone® Mycorrhizae and earthworm castings. Perfect for in-ground plantings.

Organic Moisture Mix

All Natural Moisture Mix potting soil mix with coir, earthworm castings & myco-tone. Perfect for moisture loving houseplants.
Espoma Fertilizers
Soil Acidifier

For Hydrangeas and Blueberries

Great for blueberries and turns hydrangeas blue. Lowers the pH of soils for optimum growth of acid-loving plants.

Bulb-tone

Natural Organic Fertilizer for Spring and Fall Bulbs

Perfect for all bulbs like tulips, daffodils, crocus and hyacinths. Long lasting, slow-release feeding.

Bio-tone Starter Plus

The Ultimate Starter Fertilizer

Grows larger root mass to help plants establish fast, reduces transplant loss, and promotes bigger blooms.

Berry Tone

Natural Organic Fertilizer for all Berries

Grow larger plants with more fruit. Long lasting, slow-release feeding with Bio-tone Microbes.